Neighborhood
Bois-Franc

The Bois-Franc neighborhood in Saint-Laurent combines greenery and nature, bodies of water, recreation, services and businesses in a state-of-the-art environment. Centered on its residents' quality of life, Bois-Franc is located near public transit and the future REM station.
BLUE AND GREEN
Living in Bois-Franc means enjoying a truly unique living environment – one where green spaces make up over a third of the neighborhood. You'll find spacious parks, a network of over 55 km of walking trails and bike paths, and many small oases spread throughout the neighborhood's squares.
Bois-Franc has impressive features, including:
Thousands of mature trees
Many parks
Clear, unobstructed sky (underground electrical wiring)
31% green and blue spaces
Natural gas
Over 55 km of walking trails and bike paths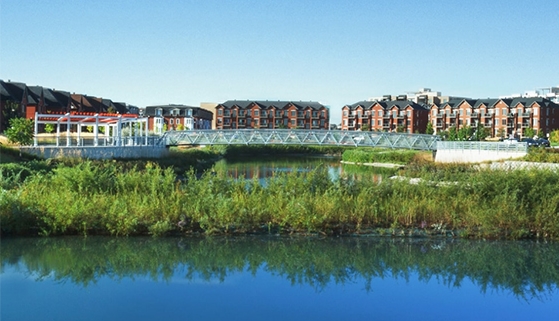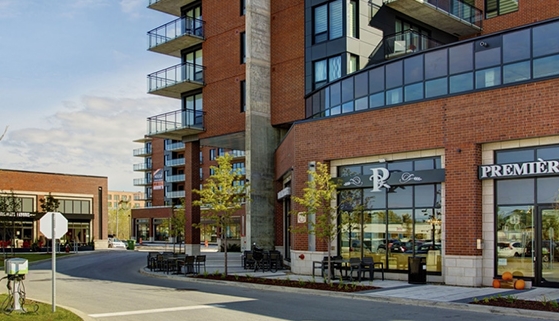 SHOPS
With a pedestrian-friendly design, Bois-Franc offers many shops and services that are walking distance, including grocery stores, good restaurants, pharmacies and more:
IGA Extra (with a vegetable garden on the rooftop)
Jean Coutu Pharmacy
Première Moisson
Chocolats Favoris
Optometrist
Physiotherapy
Daycare (CPE)
Exercise studios
Bank
Restaurants – Subway, Petinos, Yuzu Sushi, Pizza Pizza
And much more!
LOCATION
In Bois-Franc, you benefit from proximity to the train, metro, bus and major arteries for a quick and easy access to downtown Montreal.
REM (RÉSEAU ÉLECTRIQUE MÉTROPOLITAIN)
The future REM train, now under construction, will have a station in Bois-Franc, which will bring residents downtown in only 15 minutes.
TRAIN STATION
Bois-Franc's RTM train station is located at the top of the project and offers direct access to downtown Montreal.
METRO
The Côte-Vertu metro station is only blocks away from Bois-Franc and is easily accessible with bus 70.
HIGHWAYS
Bois-Franc is near many highways: 13, 15, 20 and 40.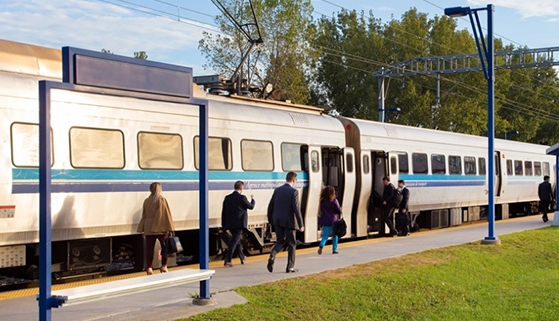 A SMALL CITY, IN THE BIG CITY!
Bois-Franc's landscaping is meticulously designed for families to enjoy sports and recreation – in both summer and winter. The environment's natural variety in green and blue spaces creates an authentic sense of urban living in nature. An architectural servitude ensures the control of the overall project's integrity so that your investment retains its maximum value. Bois-Franc – it's a truly distinctive living environment!
2171, rue des Montérégiennes, Saint-Laurent
Opening hours
Monday to Wednesday: 1 pm to 8 pm
Thursday and Friday: Closed
Saturday and Sunday: 11 am to 5 pm