QUALITY
AND VARIETY
Bois-Franc offers the greatest variety of house's styles to be found in the metropolitan area: townhouses and condominiums… Whatever the nature of your needs and whatever type of dwelling you have your heart set on, you will find the right home for you in BOIS-FRANC. Each one has its own indoor garage; however, all driveways are concealed on the sides of the buildings to improve the appearance of the building fronts.
---
LEISURE
AND FRESH AIR
Bois-Franc's meticulously designed landscaping allows families to indulge in numerous sports activities, in winter as well as in summer: cycling, jogging, hiking, etc. Indeed, the marvellously varied environment created by the combined presence of green spaces and waterways opens the door to any number of recreational possibilities.
a wide range of housing products adapted to today's lifestyles;
builders renowned for their expertise and daring spirit;
uniform, exclusive regulations (referred to as an "architectural servitude");
clay brick, in earth tones, on all building exteriors;
at least one underground garage per dwelling unit, without any garage doors fronting any homes.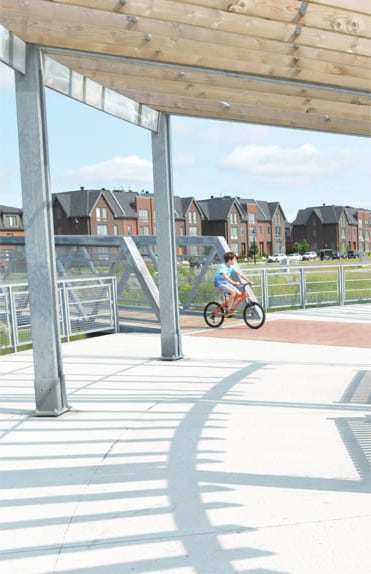 ---
HISTORY
OF BOIS-FRANC
In March 1990, Bombardier Real Estate Services was given the mandate to transform 200 hectares of runway land used by Canadair in Cartierville, northwest of Montreal, into an innovative real estate project. Following a series of comparative studies of similar projects in the U.S. and Europe, the concept for the Bois-Franc residential project was born, inspired by a new urbanism approach.
New urbanism embraces a design philosophy that puts the emphasis on community living, thus providing as many pedestrian and common services as possible. This then creates an esthetic framework for a superior quality of life in an enriched environment. These principles are applicable to residential neighbourhoods of all sizes and densities. While new urbanism doesn't turn its back on the automobile and all of its requirements, it does favour a more harmonious, green and human environment.
Bois-Franc puts the emphasis on its charming parks and common spaces, including the town square and local shops. Bois-Franc puts a human face on every aspect of this project. As a result, cars get to be parked underground to reduce street parking and inconveniences, no frontal garage doors on any residence, a street design aimed at slowing down motorists, an urban design that is pedestrian-friendly… and an outstanding quality of life that is lived, both inside and outside the walls of the homes of its residents. Bois-Franc's architectural charm forever defines and preserves the overall external appearance of all residences.
---
On February 1, 2010, Bombardier Real Estate Services passed on the torch of owner-promoter to two seasoned and reputable partners — Greg Galardo, president of Montclair, and Marc-André Roy, president of Sotramont. They then created a new joint venture in the name of LES DÉVELOPPEMENTS BOIS-FRANC, thus assuring the evolution of the three initial phases of the project and confirming the completion of Le Quarter, the final phase of Bois-Franc. Le Quartier is dedicating 31% of the remaining land to bike and pedestrian paths, parks and waterways — all to enhance the newest generation of LEED condos and townhouses, as well as small businesses located within minutes of a grocery store.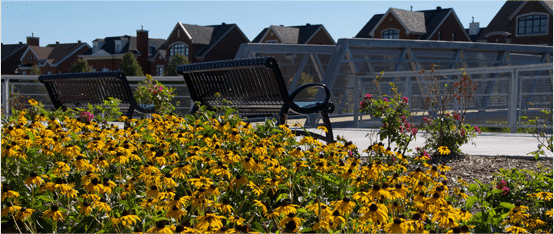 UNIQUE
ENVIRONMENT
Bois-Franc is an outstanding place designed to recreate Mother Nature's finest, in an urban environment. Residents appreciate the fact that a good part of the territory is preserved for green and blue spaces. Along the streets, thousands of mature trees have been planted. Such controlled and protected development contributes toward making Bois-Franc a genuine green community.
---
AN INNOVATIVE
URBAN PROJECT
Bois-Franc successfully blends greenery with nature, water parks, recreation and leisure, homes and stores — all in the heart of an avant-garde residential project that puts the focus first and foremost on the quality of life of its residents. It is a concept that has allowed Bois-Franc to capture the hearts of homebuyers, because through this agglomeration of services, homes and infrastructure, a spirit of warmth and intimacy reigns, creating history and soul.
Bois-Franc living is not only about owning a well-built home; it's also about enjoying the benefits of a community that has it all — everything from its squares, rest areas, parks, La Grand-Place town square, shops, daycares and, most importantly, happy residents.
NATURE AND GREENERY
The Bois-Franc territory features a number of waterways that have been expertly spread out and given such evocative names as Bassin de la Brunante, Bassin des Outardes, Bassin des Nations, and Bassin de l'Aube. These basins attract many bird species that come here to bathe or quench their thirst; aquatic vegetation is gradually growing here as well; the surface of the water – whether calm or agitated – constantly and alternately reflects either the lights or shadows of the days and nights. Many residents highly appreciate these very special features and charms of the ponds near the commercial and business world. The entire Bois-Franc territory has preserved 31% of its land for green and blue spaces. This is an area that beautifully harmonizes homes with parks, lakes, squares, piazzas and piazettas.
A WELL-DEVISED
AND WELL-DESIGNED DEVELOPMENT
Thanks to its innovative and imaginative master plan, Bois-Franc offers an exclusive environment, where nature and housing live in perfect harmony. Astutely spread out, green spaces, bodies of water and a bicycle path create a living environment that fulfills everyone's aspirations. Residents may relax, as they please, in peace and quiet, or merely savour the charms of the area.
LA GRAND-PLACE
All streets in the Bois-Franc development lead to La Grand-Place, which doubles as the commercial area for residents of Bois-Franc, who can find all of the services they need. Parking facilities are located nearby, although every effort has been made to make these as visually unobtrusive as possible.
La Grand-Place is the place to stroll, sit, chat with neighbours and exchange ideas. In short, this is where streets and people converge, because Bois-Franc offers A NEW QUALITY OF CITY LIVING!
ELECTRICAL UNDERGROUND NETWORK
Bois-Franc offers its residents state-of-the-art technology that is at once respectful of their quality of life and environmentally friendly. Furthermore, the fact that all electrical wiring is underground greatly improves visual impact as well as reliability of the network.
---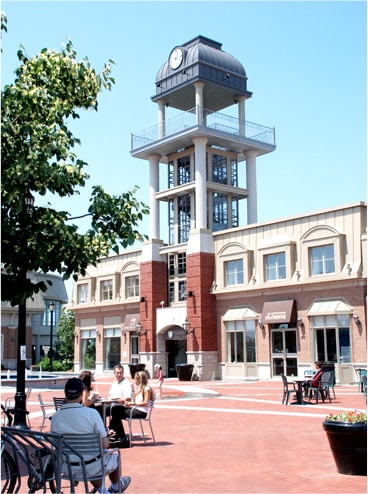 TYPICAL FEATURES

Parks, bicycle paths and walking trails, two daycare centres and a residence for independent retirees;
Underground power lines and uniform, appropriate lighting throughout the development;
A plaza with four service buildings providing access to several shops without leaving the development;
A distinctive observatory where the entire development may be admired all at once;
Streets and signs designed to reduce the speed of motor vehicle traffic;
Sidewalks running throughout the development.
---
A STRATEGICALLY-LOCATED COMMUNITY
Saint-Laurent Borough, where Bois-Franc is located, is recognized for its economic vitality, business parks and proximity to major highways and Pierre Elliott Trudeau Airport.
When you live in Bois-Franc you get to benefit from all that public transit can offer, with services available inside Bois-Franc. That means you can get to your commuter train or metro station in less than five minutes. It also means living outside the city, but within proximity of downtown, minus the headaches of traffic jams on major bridges./p>
Public transit available inside Bois-Franc
Close to a multitude of services